April 24 2021
Bodymaps: A Therapeutic Workshop by Gerda Liebmann
Bodymaps: A Therapeutic Workshop by Gerda Liebmann has been indefinitely postponed due to unforeseen circumstances. We apologize for any inconvenience this may caused and appreciate your patience and understanding.

Bangkok 1899 presents Bodymaps: A Therapeutic Workshop with artist, filmmaker and missionary Gerda Liebmann. As a participant, you are invited to practice art therapeutic drawing and painting that will help you to identify and express your thoughts, feelings, hopes and dreams. The artist will guide participants through discussion and exchange of ideas. In this context, art is utilized as a tool for assisting individuals towards self-expression, reflection and exploration on traumatic past experiences.

You will get an opportunity to create a life-size self portrait guided by the artist. Later on, these artworks will become part of an art exhibition that will be held on 22 May 2021.

By sharing stories of past traumatic experiences, you will draw an outline of your body. The painting will intermix your image with past traumas along with your hopes/dreams. Next, the participant will practice expressing themselves onto paper and the artwork will be co-created as a form of life-size paintings. Bodymaps will illustrate your past experiences, who you are now and your aspirations for the future. It will begin your journey through art therapy to benefit how self-perception in the present, and guide you towards your goals for the future.

*Only non-artist participants (preferably with little experience drawing/painting) Must be comfortable sharing openly about past experiences. The participants must have the capacity to attend both days of the workshop.

Gerda Liebmann is an artist, filmmaker and missionary that believes that art can heal trauma. She was born in Switzerland where she studied art at the Kunstgewerbeschule St.Gallen. She lived in the USA where she worked as a Graphic Designer and had a family. Later, she studied for Christian ministry at Berean Global University and was ordained as a Reverend. She is now living in Thailand and continues practicing therapeutic art to guide others on self-reflection.

"Art is a therapeutic way to express yourself inside out," says Liebmann.
March 27, 2021
U.S. Embassy and Creative Migration Present
OUT LOUD: Celebrating Women's History Month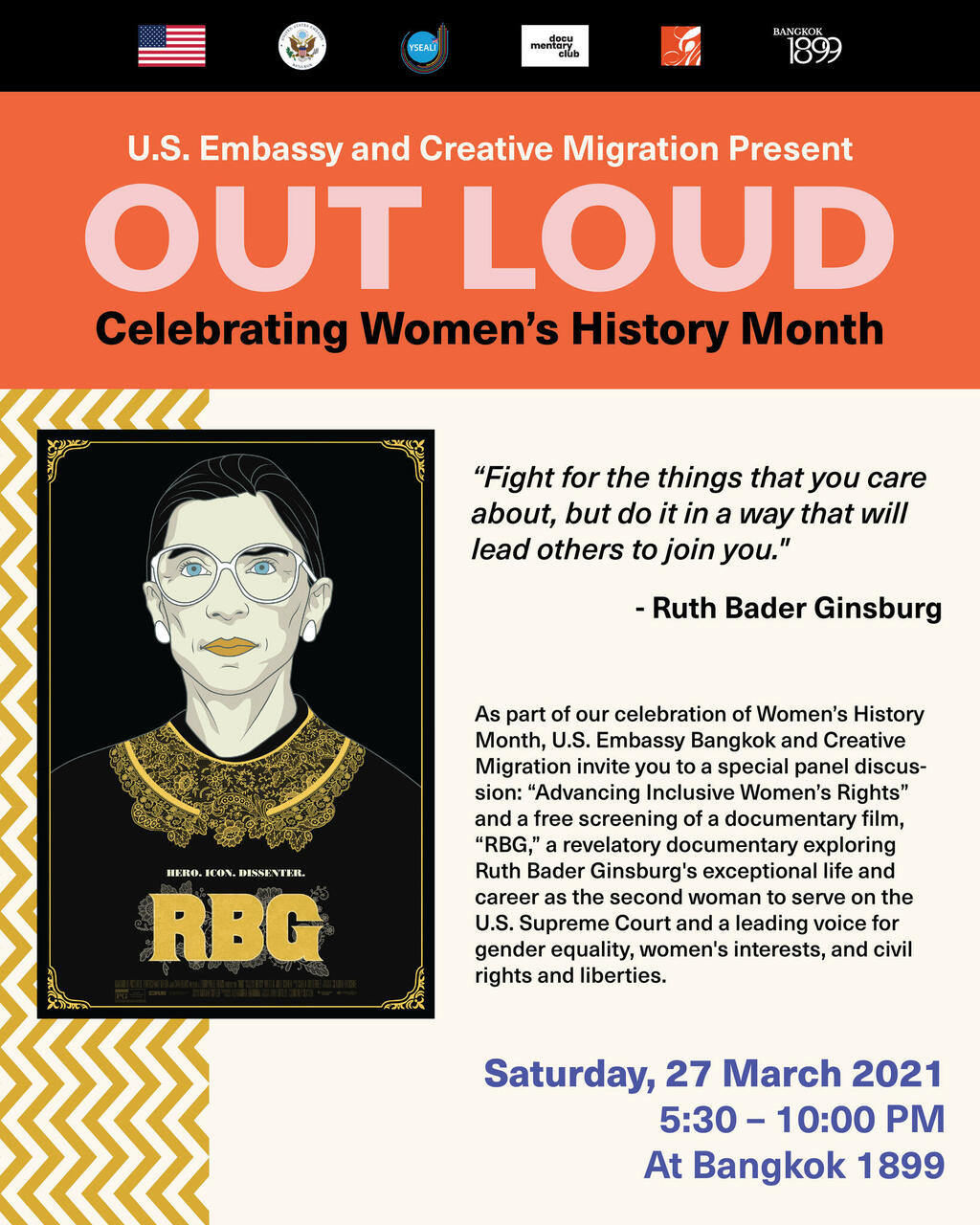 As part of our celebration of Women's History Month, U.S. Embassy Bangkok and Creative Migration invite you to a special panel discussion: "Advancing Inclusive Women's Rights" and a free screening of a documentary film, "RBG."
Join a community of women from diverse sectors throughout Bangkok as we connect, inspire, and grow as allies in celebration of Women's History Month. A panel discussion will bring together five inspiring women to share their perspectives toward building a more gender-balanced world. This will be followed by a special screening supported by Documentary Club of a revelatory film, "RBG" exploring Ruth Bader Ginsburg's exceptional life and career as the second woman to serve on the U.S. Supreme Court and a leading voice for gender equality, women's interests, and civil rights and liberties.
5:30 - 6:15 PM: Registration and Networking
Bangkok 1899 opens its doors and garden with the U.S. Embassy Bangkok's support for women working in various industries to connect and build relationships across sectors. Enjoy a selection of complimentary snacks and beverages provided by social enterprise Na Cafe (full bar and cafe available for purchase). Explore a selection of video works by artist Kawita Vatanajyankur for one night only in the gardens of Bangkok 1899. Visit photo exhibition "Bare" by artist Solène Le Doze whose work explores sisterhood's strength when encountering personal difficulties.
6:15 - 7:10 PM: Panel Discussion: "Advancing Inclusive Women's Rights"
Join us for a thought-provoking discussion about equal rights and women in leadership roles. Panelists from various sectors will focus on the role of perseverance, authenticity, and the power of support in the context of shifting cultural and societal structures. Discussion conducted in Thai and English. Panelists TBA
7:10 - 9:20 PM: "RBG" (2018) with Thai subtitles
RBG (2018) is an American documentary film focusing on the life and career of Ruth Bader Ginsburg, the second female Supreme Court of the United States Associate Justice after Sandra Day O'Connor. The film was directed and produced by Betsy West and Julie Cohen.
At the age of 85, U.S. Supreme Court Justice Ruth Bader Ginsburg had developed a lengthy legal legacy while becoming an unexpected pop culture icon. The unique personal journey of her rise to the highest U.S. court has been unknown, even to her biggest fans – until now. RBG explores Ginsburg's life and career.



March 16, 2021

Bare: A Photo Exhibition by Solène Le Doze
"This project emerged from the will to give back to the women that supported me during a very difficult time in my personal life. This was the first time that I had experienced such a feeling of sisterhood, where women gathered around and supported me, even some that I barely knew. I wanted to give something back by celebrating them, and wondered how best to do that.
Realizing that a lot of them had body image issues, stemming from not having the same body as when they were younger or before they had children or even just comparing themselves to the archetypes of female form that we are confronted with in our everyday lives. I thought doing nude photo sessions could help them see how beautiful they are – inside and out – and boost their self-confidence.
Even though it started from the idea of giving back, it turned out that I unexpectedly benefited from this experience. They placed a feeling of trust in me by sharing such an intimate and vulnerable moment. This deepened my friendship with each of them during these photo sessions. I am very grateful.
Interestingly, they all did these nude sessions with me for different reasons, and used these pictures in different ways. You'll find some of their testimonies here.
Enjoy!"
– Solène


Solène Le Doze is an art and street photographer based in Bangkok, Thailand. With a passion for photography and people, she tries to capture emotions and moods. Her first solo exhibition Bare aims to celebrate women of all shapes and all ages.

Visit her website at soleneledozephotography.com