November 22, 2014
Recap: FACTS (French Ameri-Can Climate Talks) at UCLA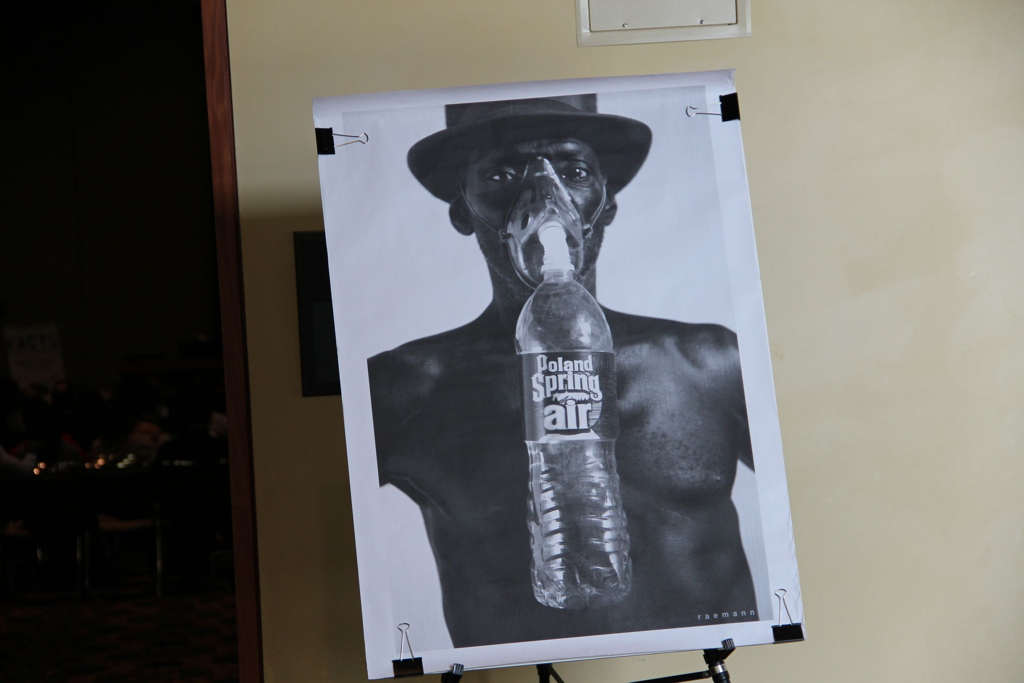 ---
November 7, 2014
Green Patriot Posters at UCLA climate conference!


Creative Migration & Green Patriot Posters are providing the artwork for FACTS (French Ameri-Can Climate TalkS) in Los Angeles on Nov 14, 2014!
Register for the conference here:
factslosangeles.eventbrite.com
Building up to the United Nations Climate Change Conference to be hosted by France in December 2015 (
COP 21-Paris Climate 2015
) the Embassies of France in both Canada and the United States are organizing FACTS (French Ameri-Can Climate TalkS), a public conference series across seven cities in the US and in Canada involving renowened scientists, civil society representatives, NGOs, political figures, journalists and entrepreneurs. Key speakers from both the US and France will be discussing the role of urban centers in regard to climate change policies: from the changing risks they have to face to the new opportunities they can benefit from.
Climate Ready Cities
Taking actions to mitigate climate change and adapt in urban areas
In partnership with the UCLA
Institute of the Environment and Sustainability
and the
Los Angeles Regional Collaborative
(LARC) for Climate Action and Sustainability, the Embassy of France in the United States and the
Consulate General of France in Los Angeles
will organize a conference to discuss the challenges climate change represents for cities around the world.
With more than half of humanity living in cities, urban centers are key actors for climate change. Climate change represents a major threat for many cities that will have to face a range of impacts from the consequences of the changing climate (sea level rise, increased frequency of extreme weather events, heat waves, etc.). However, the threats brought by climate change can also represent an opportunity and many cities are already taking action to become climate resilient by both decreasing their emissions and by preparing to mitigate the future impacts of climate change.
August 24, 2014
Made in L.A. (Hammer Museum)


---
May 16, 2014
Open Engagement
Creative Migration curates a panel discussion on how creative fields can practice and encourage sustainability.

3:20pm-3:30pm | Susannah Tantemsapya, Creative Migration: Creative Sustainability

This includes a screening of POST NEW BILLS, a short documentary that releases in January 2014 as a part of a two-year traveling Green Patriot Posters exhibition with Design Museum Boston.

May 15, 2014
FREE NYC Screening of POST NEW BILLS
RSVP@creativemigration.org
---
May 13, 2014
Environmental Sustainability presentation at State Street - Boston, May 15
Susannah Tantemsapya, our Founder/Director, is presenting POST NEW BILLS: The Story of Green Patriot Posters at the global HQ of
State Street
on Thurs, May 15. This is a monthly luncheon to engage around 100 of their employees on sustainability!
---
May 12, 2014
Design Museum Boston screening of POST NEW BILLS - Weds, May 14!


Rooftop Lounge, 20th Floor
315 A Street, Boston, MA 02210
#DMBGreenPatriot
Our final Green Patriot Posters event in Boston! Limited tickets available, first come first serve!
An exclusive, one-time screening of
POST NEW BILLS
, a short film documenting the Green Patriot Posters campaign made by Creative Migration. Founder & Director of Creative Migration, and filmmaker of POST NEW BILLS, Susannah Tantemsapya, will join us to introduce the film and host an intimate Question & Answer session. Enjoy 315 on A's 20th floor rooftop lounge and light refreshments!
6:30pm Welcome/Exhibit Viewing on Ground Floor
7:30pm Film Screening on 20th Floor rooftop
8:00pm Q & A with Filmmaker
Post New Bills is the first film about Green Patriot Posters, it tells the story of its founders and contributors, innovators of social change whose work has reached five million people through print media, public space and digital culture. The film features interviews with Shepard Fairey, DJ Spooky, Michael Bierut, Dmitri Siegel, The Canary Project and Mathilde Fallot. Locations include San Francisco, Los Angeles, Ventura, New York, Paris and Stockholm.
Green Patriot Posters is a multi-media public awareness and action campaign of over 500 unique posters encouraging U.S. citizens to build a sustainable economy. Design Museum Boston is featuring these posters in our latest exhibition: Green Patriot Posters: The Revolution Will Be Designed which is now on view at 315 on A Street in Boston until May 31st, 2014.
---
March 19, 2014
Open Engagement 2014 - Queens Museum (New York)
Creative Migration returns to Open Engagement at the Queens Museum in May! Early bird registration for attendees is now available via Eventbrite.
This time we will discuss how creative fields can practice and encourage sustainability. Details TBA - Stay Tuned!
---
February 18, 2014
Artists' Pay for Radio Play - Rally & Concert
Creative Migration is now a sponsor of the Content Creators Coalition! Catch their upcoming event,
Artists' Pay for Radio Play - Rally & Concert
.
This is a general admission, standing event.
Happy hour from 6-7 pm including $3 beer annd $5 well drinks.
RSVP for FREE: rsvp@lprnyc.com
Facebook Event
The United States is the only democratic country in the world where artists don't get paid for radio airplay. Currently, the short list of countries that share the United States' position on this issue includes: Iran, North Korea, China, Vietnam and Rwanda. On February 25th, joinmusic makers and music lovers alike in urging Congress to support artists' pay for radio play.
Sign the petition!! for Artists' Pay for Radio Play - visit
https://www.c3action.org/
---
January 15, 2014
Green Patriot Posters: The Revolution will be Designed
Creative Migration's latest film,
POST NEW BILLS: The Story of Green Patriot Posters
opens January 17th, 2014 at
Design Museum Boston's Green Patriot Posters: The Revolution will be Designed
- their latest exhibition showcases hundreds of beautiful posters designed to raise awareness around climate change.
Come see this new exhibition and experience the grand opening of
315 on A, a LEED Gold Certified residential apartment building at 315 A Street Boston, MA 02210

FREE exhibition on view from January 17th - May 31st 2014
Hours: Sat - Wed 10 am - 5 pm, Thurs & Fri 10 am - 9 pm
#DMBGreenPatriot

---